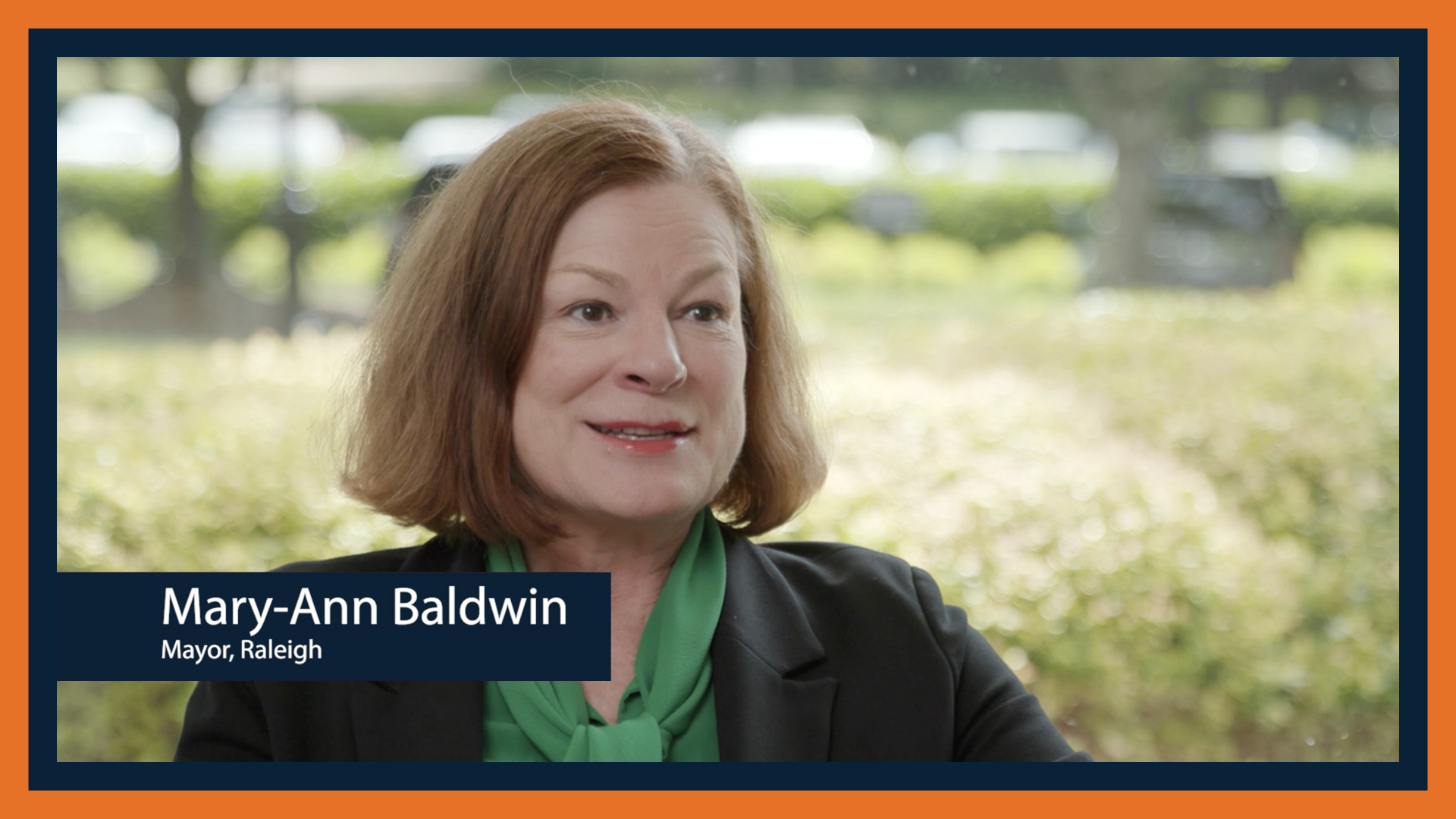 Watch the interview with Raleigh Mayor Mary-Ann Baldwin at readyforrailnc.com/videos.
When Raleigh Mayor Mary-Ann Baldwin talks about the future of her city and the ever-growing Triangle, she wants people to picture how amazing it will be to have a regional mass transit network connecting them to opportunities, offering them travel choices and helping us all maintain the quality of life that puts us repeatedly on "best of" lists.
Then she wants them to picture life without it.
"The future without is not pretty," she says. "When I look at transit, when I look at commuter rail, I look at 10 years out. If we don't have that, where are we going to be? We're not going to be attractive to companies. We're not going to be attractive to young people, because we're going to be suffocating in our cars, you know, just struggling with traffic. And that's not the region we want."
Baldwin has said that seeing the Greater Triangle Commuter Rail Project emerge from years of planning to reality is her No. 1 transportation priority. Wake and Durham counties have included the project, which is in the final study phase before governing bodies will decide next year whether to build it, in their transit plans.
As part of its "Transit Talk" series with WRAL, GoTriangle talked with Baldwin about the rail line as the agency kicks off the latest round of public engagement and education for the project. Find out what people had to say during the last round and sign up to get updates as a Commuter Rail Insider at readyforrailnc.com.
Through Aug. 31, groups, agencies, organizations or nonprofits also can request a presentation about the commuter rail project. Please find a presentation request form here.
"Planners have used community feedback every step of the way in bringing the commuter rail project along, and as we head to a decision point, it's never been more important for people to weigh in," GoTriangle President and CEO Charles Lattuca says. "As our region continues to attract more residents and more businesses by the day, the opportunity that the commuter rail project gives us to manage growth and create a truly regional transit network has never been more important, either."
How rail fits in
The Greater Triangle Commuter Rail line would run up to 43 miles in the existing North Carolina Railroad corridor from West Durham through Raleigh to Garner or Clayton with stops in downtown Durham, Research Triangle Park, Morrisville, Cary, NC State and downtown Raleigh.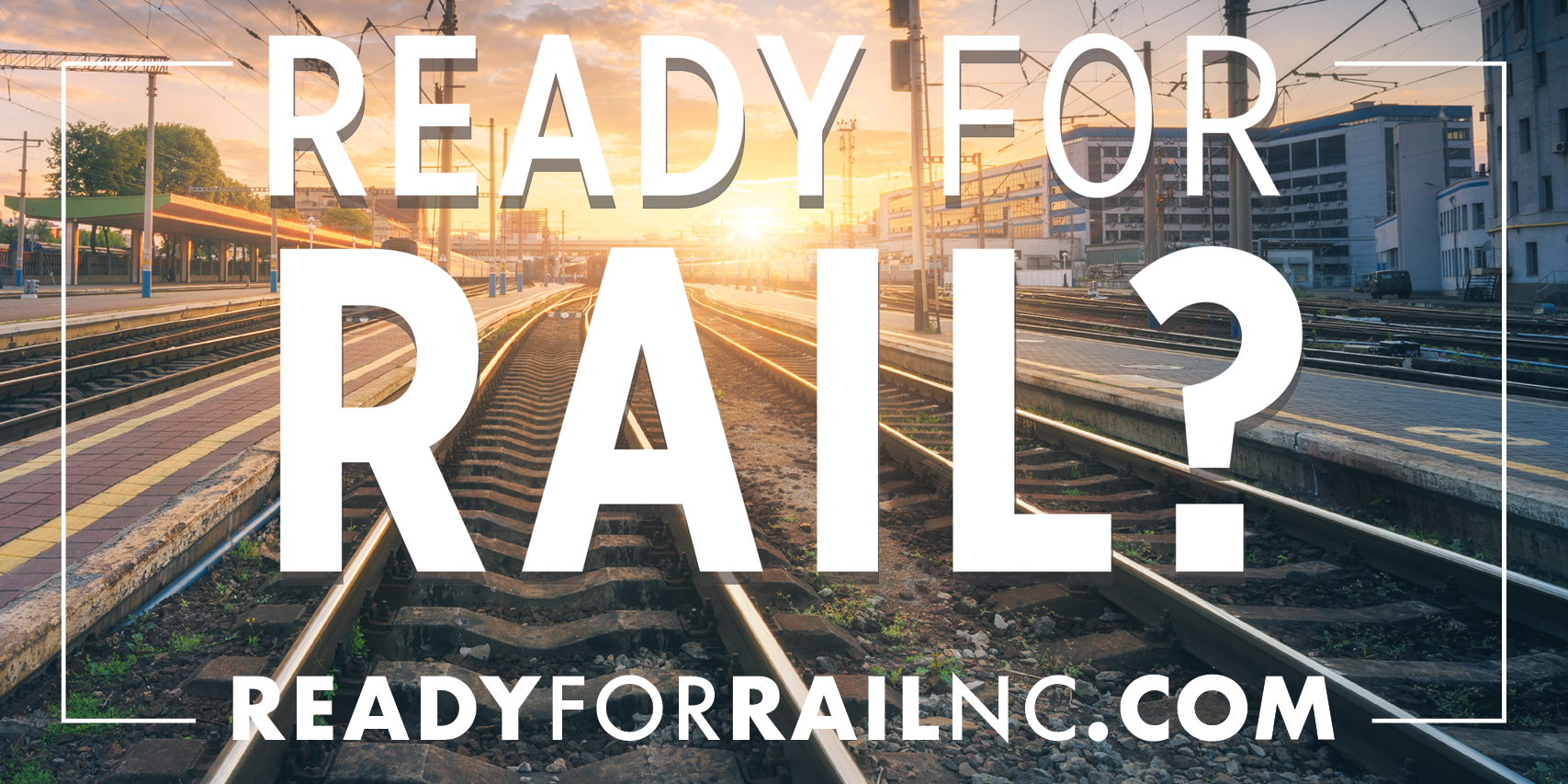 As Baldwin sees it, one of the biggest challenges in building the transit network the region needs to continue being a success story is getting enough people to see the need for it.
"They're comfortable in their cars so it's really a culture change," she says. "We've been working on rail for 20 years here, and there are a lot of stops and goes, but this time around, we're making progress. I think the big hurdle for us is helping people envision our future, what that's going to look like and how rail fits in."
The Greater Triangle Commuter Rail line would be the backbone of a regional transit network that includes four bus rapid transit corridors in Wake County and greatly expanded bus service in Durham and Wake.
"You just don't start commuter rail, you have to build toward it," Baldwin says. "So Raleigh Union Station, that's been open now three years. That was built for the future. It was built to accommodate Amtrak, but it was also built to accommodate high speed rail, commuter rail. That's the hub."
Connecting people to opportunity
Already the Wake Transit Plan, approved by voters in 2016, has greatly increased how many areas the bus system covers and how often the buses come. The first bus rapid transit corridor along New Bern Avenue in Raleigh is in its final design stage.
"Commuter rail is what joins it all together," she says. "And it's all built together to support that. So when we do launch commuter rail, it will be successful."
Commuter rail is about managing growth and expanding access to opportunity.
"There are several ways that commuter rail can really help create opportunities for people," she says. "First off, there's a lot of discussion right now about affordable housing and people being pushed out of Raleigh or the outskirts of Raleigh, to different parts of Wake County, Johnston County. Those are areas I think that we really need to think about connecting people to opportunity, and commuter rail does that."
The Triangle J Council of Governments recently completed a study about affordable housing within the commuter rail corridor. Those results will be available next week.
Commuter rail also is about giving people choices.
"They don't have a choice right now," she says. "You don't have a choice to get on commuter rail and enjoy Wi-Fi. While you're there, maybe you're getting some things done for work. That's a productive 30 minutes of your time, instead of sitting in traffic for an hour. And I think once people see the benefits, it's easy."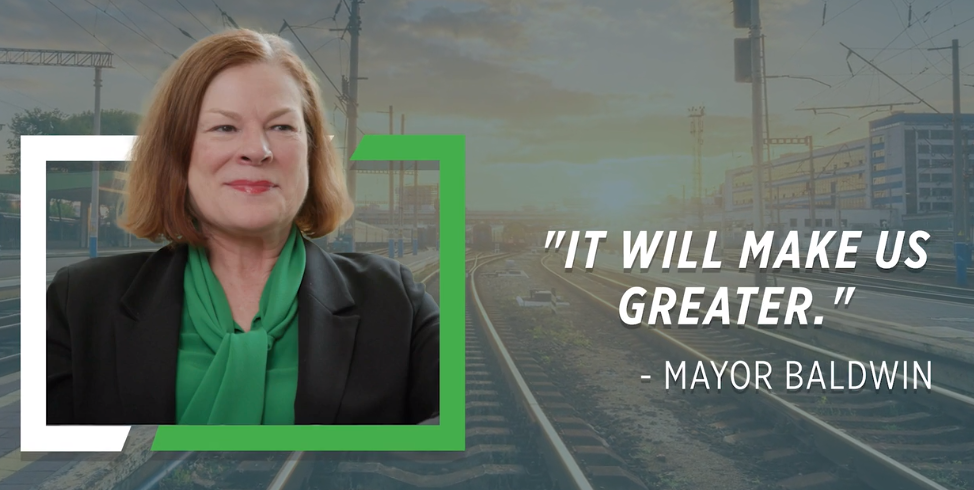 Commuter rail would also expand the variety of choices people have for where they live.
"One of our major strengths is we're a region, and we have cities with different personalities," she says. "We have urban areas, we have suburban areas, we have rural areas outside the region. So there's something for everyone. If you want to live on a farm and raise chickens and work at Apple, you can do that. If you want to be part of the inner city, you can live in Durham or Raleigh. I think that choice is part of our strength in dealing with growth."
It's about the environment and the future for our youth.
"I think young people are really concerned about our environment," she says. "They're concerned about carbon emissions, they're concerned about sustainability. They're concerned about the future. And I think that that is also going to be part of this choice is you're going to have a new generation, or we already have one coming up, saying this is important to me. And we need to do things differently."
Companies as a catalyst
And it's about getting people to jobs and helping create more jobs.
"One of the things that Amazon didn't like about our region was the lack of public transportation," Baldwin says. "I think where we are now, companies like Apple understand that them coming here can be a catalyst for that. They can help make things happen. It can help us grow in a positive way. Training people for those jobs becomes important, and it all kind of ties in together, workforce development training, working with Wake Tech and other colleges and universities to help us train people for the jobs of the future.
"And then commuter rail helps them get there."
View a video of the interview with Baldwin here.
"How I try to lead is to look 10 years down the road," Baldwin says. "If you're just looking at today, you're being delinquent."